Photo Gallery
Merseyside Border and Fife November 2018

Paul Glover with his Best Fife and

John O'Keefe with his Best Novice Fife

2nd Best fife with a clear buff hen.

Also 3rd, 4th 6th and 7th best.

15 winners from 22 birds shown

North Wales Border (Fife section) November 2018

3rd and 5th Best Champion Fife with a Buff Green hen and a clear yellow cock. 8 winners out of 12 entered.

Runcorn CBS October 2018

Best Fife and Best Canary with a HV yellow cinnamon hen. Also 2nd and 3rd Best Fife with a clear yellow cock and a variegated yellow cock.

Merseyside Border and Fife Fancy Canary Club Show November 2017

Paul Glover Best Fife and Best Champion Fife

with Reg Eagles the club President

John O'Keefe (Kennedy and O'Keefe) Best Novice Fife

with Reg Eagles the club President

World Show in Almeria, Spain, January 2017

Some photographs from the World Show in Almeria in Spain.

Sales on the ground floor

Exhibition birds on 1st floor. Approx 26000.
S.E.M.C.C
Southeastern Massachusetts Canary Club
36th Canary Show
November 5th and 6th, 2016
www.semasscanaryclub.org
Some of the winning Fifes
| | |
| --- | --- |
| | |
| Show Hall | Winners Trophies |
Wonderful mementoes for judging at the show
| | |
| --- | --- |
| | |
| Birdroom of Arthur Mendeiros who keeps Borders and Fifes | Brain Chandler (who judged the Borders) with Arthur and Joe Correia. |
2015 Gozo Annual Bird Show (Malta)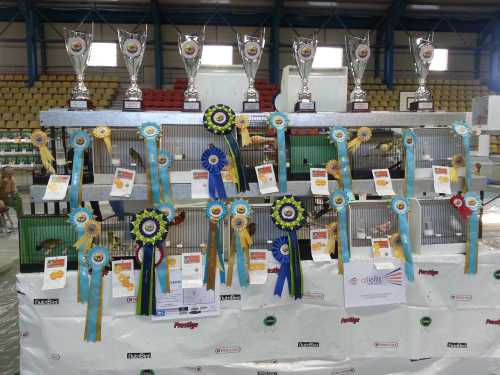 Some of the winning exhibits from the Gozo Bird Show
Some of the winning Fifes at the Gozo Bird Show
2013 German Border and Fife Club Show
Display of some of the winning Fifes

Thomas Pund, winner of Best Fife, with judge Terry Kelly

Thomas with his winning bird a Heavily Variegated Yellow Green Hen (closer picture below)

Another of Thomas's winning birds a Variegated Blue

Heavily Variegated Yellow Cinnamon Hen
2012 (11th November) Merseyside Border + Fife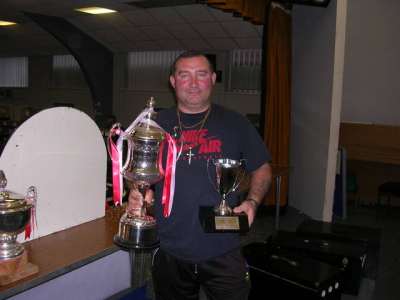 Charlie Galloway with trophy's for Best Fife in Show at Merseyside. On the right is his winning Var Yell Cin Hen.
2012 (4th November) Southern England Fife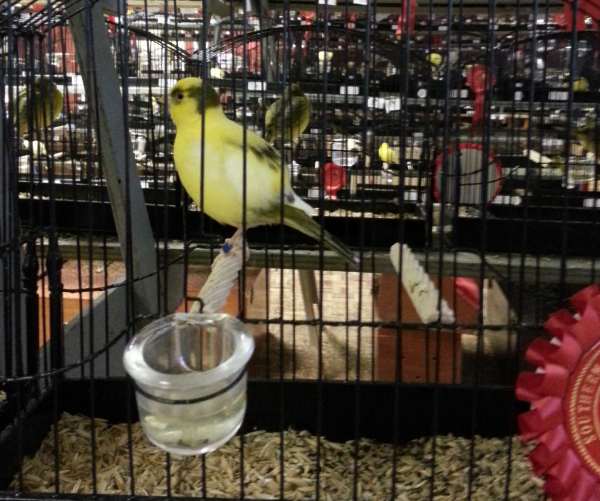 J Holmes Best Fife a flighted Var Yell Hen
2010 Bangor CBS (Northern Ireland) 9th October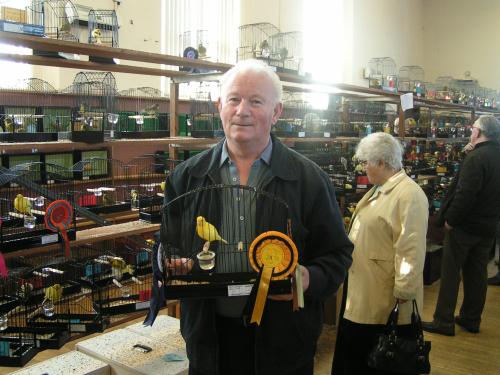 I was asked to judge the Fife Section at Bangor CBS in Northern Ireland. Here is Sam Barkley with his Best Fife a Clear Yell Cock.
2008 Swords CBS (Ireland) 12th October
I was asked to judge the Fife Section at Swords CBS in Ireland. As you can see from the picture above there was an excellent entry of birds - just under 1900 in total, including about 200 Fifes.
Pictured below is Eric Croly who took the Best Fife and second Best Fife with a 3pts Buff Green Hen and a Self Yellow Green Hen respectively - 2 very nice birds.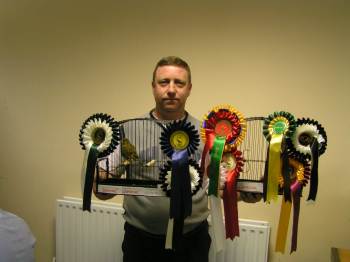 2007 Old Swan CBS 3rd November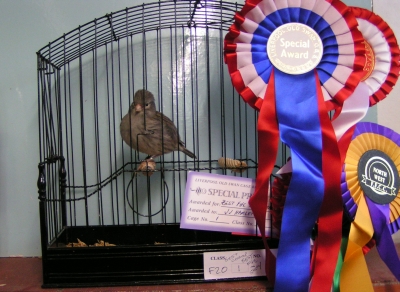 My little Blue Hen was awarded Best Fife by Matt Eld making his judging debut. Unfortunately the show did not have as many entries as previous years.
2007 North West Fife Fancy Canary Club 21st October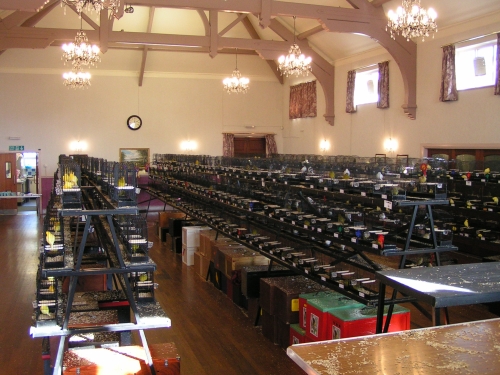 Show Hall - about 700 entries

Best Champion Fife - Roy Brown and Bob Stringman Best Novice Fife - Chris and Gordon Vaughn
2nd Best Champion Fife - A Garvey 2nd Best Novice - W Gammon
Coleraine CBS (2 December 2006)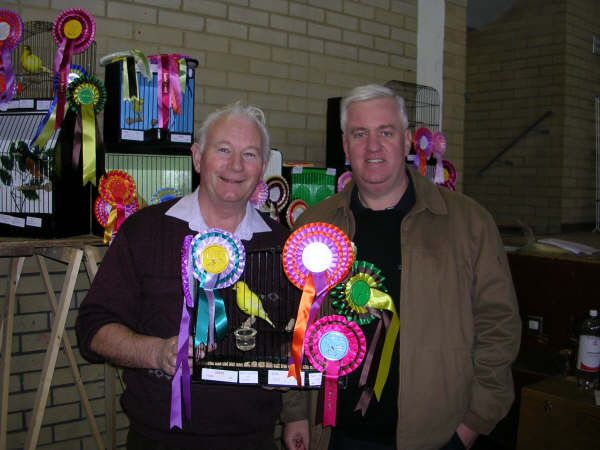 I was invited to judge the Fifes at Coleraine show along with Brian Keenan (Yorkshires and Norwich) and Bob Norman (Borders). Above is Sam Barkley with his Lightly Variegated Yellow Cock which was Best Champion, Best Fife and Best Bird in Show.
Fauldhouse Border and Fife Club (11 November 2006)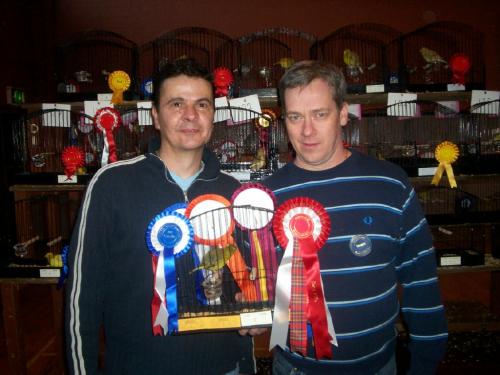 I was invited to judge at the Fauldhouse show on the 11 November along with Lance Robson. We chose Campbell and Wilson's Heavily Variegated Yellow Hen as Best in Show.
2006 Haydock CBS (15th October)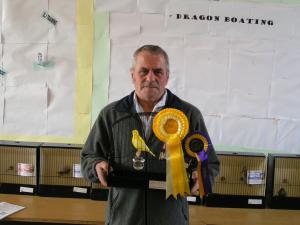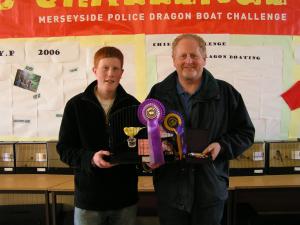 Unfortunately I couldn't show at Haydock this year as I was invited to judge. I then agreed to judge the Borders (as I am also on the Border judges panel) to help out because of circumstances beyond the show organisers control. George Ackersley stood in at the last minute to judge the Fifes. He gave Best Champion and Best Fife to John Sloane with a Lightly Variegated Yellow Hen. The Best Novice award going to Gordon and Chris Vaughn with a Lightly Variegated Buff Hen.
2006 Runcorn CBS (30th September)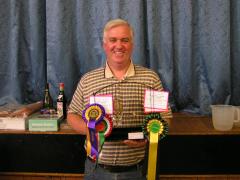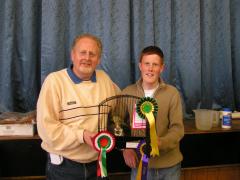 John Hughes from Anglesey was the judge for this years show. He gave my Heavily Variegated Fawn Hen the Best Champion award. However he went to the Novice section for the Best Fife and Best Canary award and gave it to Gordon and Chris Vaughn with a very good Self Buff Green Hen.
Here's a list of the major special prize winners.
Best Fife, Best Novice, Best Novice Green Gordon and Chris Vaughn
2nd Best Fife, Best Champion, Best Champion White Jeff Hamlett
3rd Best Fife, Best Champion Clear John Sloane
2005 North West Fife Fancy Canary Club 23rd October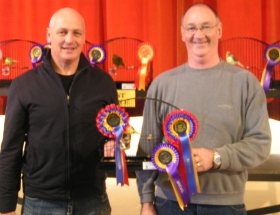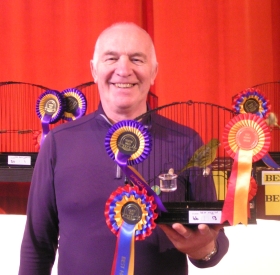 On the left are Gillott and Clark with an excellent Variegated Yellow Hen which took the Best Champion and Best in Show award. On the right is Roy Brown who took the Best Novice award with a nice Self Yellow Green Hen.
My own birds gave me a winner, 5 seconds and a third. Out of 22 birds shown, 17 where in the first seven. One of my variegated yellow hens was second to the Best in Show winner above.
2005 Haydock CBS (16th October)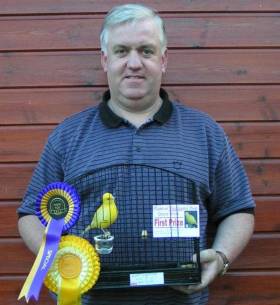 This very nice little lightly Variegated Yellow Hen took the Best Fife award at Haydock CBS. Unfortunately I forgot my camera so I wasn't able to get any other pictures. Graham Moyers took the Best Novice award with a delightful Clear Yellow Hen.
2005 Runcorn CBS (24th September)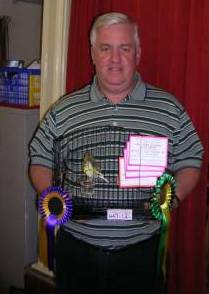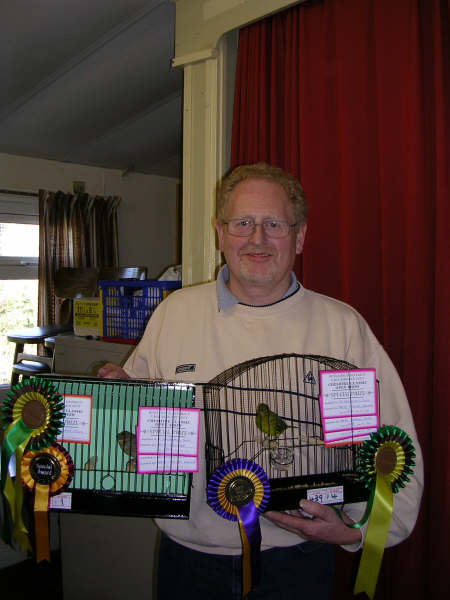 That's me on the left with a Heavily Variegated Buff Green Hen which took Best Fife and Best Canary. On the right is Gordon Vaughn of the Vaughn and Son partnership (Chris was off watching Tranmere Rovers getting beat again) with Best Novice Fife and Best Gloster.
2003 Scottish national CBS
The picture below is of the late Pat Fenlon and his wife Renie. I took this at the 2003 Scottish National CBS where Pat took the award for Best Fife and 2nd best bird in show with a 3pts Dark Blue cock. Pat's main love in the birds was Borders, the Fifes were just for a bit of fun! At this same show he also took the Best Champion Green award in the Border section.
Pat was an exceptionally good friend of mine having known him since I was a young lad when he used to visit my father who also had Borders.